Wig and makeup artist Destinee Steele (M.F.A. Design & Production '18) has spent the last several years turning her love of theater and art into a budding business and educational enterprise.
As the owner of The Beauty Menagerie based in Lake Mary, Florida, she makes custom medical wigs for a variety of clients and has started her own educational series, "Let's Talk Color," on styling Black hair and makeup for the theater and beyond. She returned to UNCSA in Spring 2021 to share "Let's Talk Color" with D&P students.
Here, Steele talks with us about cultivating a business during the COVID-19 pandemic and turning her own experiences as an actor and artist into a mission to bring inclusivity into an increasing number of wig and makeup rooms.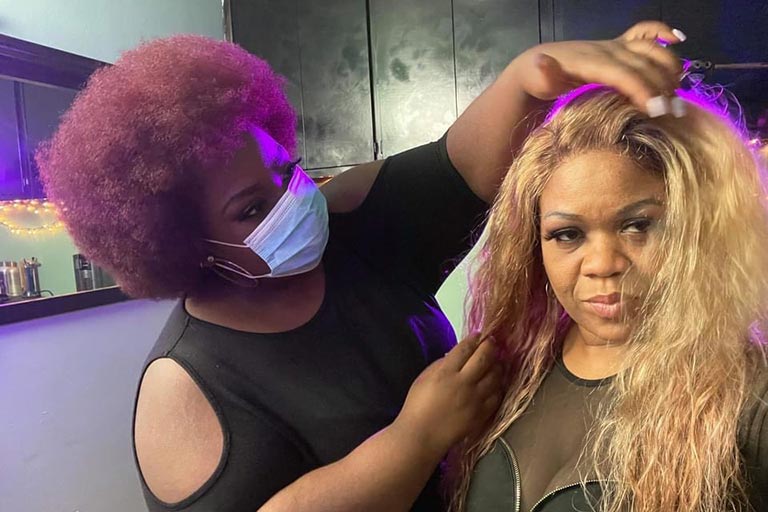 Let's start with your company, The Beauty Menagerie. How did that come about?
I have always had a love for helping people and that will always be my life's work, I feel. I am a touring wig and makeup supervisor by profession, but COVID brought an abrupt pause to that. I had a unique set of skills and a passion for helping others so I found a demographic of people who could benefit from my skill set. I've been committed ever since.
I've always wanted to own my own wig shop with the focus on training some of the industry's top wig artisans and employing wig builders who don't care to live in New York City like me.
As you mentioned, COVID-19 has changed your industry over the last year. How have you adapted to those changes?
The pandemic has changed the way everyone thinks about how we do things. I have structured my business model through the lens of COVID by answering this question: "How can I serve a community of people with as little physical contact as possible to prevent the spread?" The Beauty Menagerie is a ready to wear medical wig business that creates high quality, non-invasive hair loss solutions that take 30 seconds to apply. COVID challenged me to be more specific about my plans for my business and the future. That may be one positive thing that's happened during the pandemic.
You taught a series of classes on styling Black hair this semester as a guest artist in the School of Design & Production. How did you become interested in teaching?
I remember playing school with my brother when we were young and I was always the teacher. The profession chose me, I guess. I had the honor of pouring back into the institution that poured into me by teaching a series of workshops for D&P. This series is entitled "Let's Talk Color" and it focuses on the fundamentals of catering to Black hair and makeup in wig and makeup rooms. We have covered consultations, hair styling, hair care regimens, wig preps, skin care and so much more.
Any other projects you'd like to share?
Yes! I am a founding board member of Black Hair and Makeup United and we are on a mission to help resolve the unfortunate issue of having unqualified hair and makeup artists working on Black talent.
We welcome all artists who have the skill set to work with Black hair and/or makeup to join the list. You can find us on Facebook.
You arrived at UNCSA with a cosmetology license and a degree in theater — can you tell us a little about how you blend those two fields in your work?
Acting is my first love. I was going to cosmetology school, working full time at Waffle House and doing community theater at night at one point. The more shows I was in, the more I realized that there was no one who could advise me about my hair or makeup. I noticed I was asked to use my natural hair for shows while others were wigged, or the makeup provided for the shows was never dark enough for my skin tone. Also, upon completing cosmetology school, often I would be in the position to know the most about hair so I would also work on the wigs for the production. Slowly the switch from actress to wig and makeup artist just seemed natural.
Why did you choose UNCSA for graduate school?
Honestly, I didn't know UNCSA existed until two months before I applied. I attended SETC [Southeastern Theatre Conference] during my senior year of undergrad and I was looking for wig and makeup jobs when I met a student from UNCSA. When I realized that there were more opportunities out there for me, I did some research and compared UNCSA to [other programs] and I chose UNCSA due to the well-rounded opportunities in the industry. I would love for more up and coming hair and makeup artists to know about this amazing school.
How do you apply what you learned at UNCSA to your work?
I take my skills with me into every work environment. I definitely use my wig building and makeup application skills that I learned from the program but, moreso, I use the skills that aren't so readily apparent like being prepared for anything — always. If a job says all of your materials are provided, bring your kit anyway. The training I've received from this school has often allowed me to be the most knowledgeable party involved.
What advice would you share with current UNCSA students?
Your mental health is the most important, but the second most important thing is to glean everything you can from your time here at UNCSA. There are connections and knowledge here that some only dream of having, so seize every opportunity. Push yourself. Arrive early, stay late and impress yourself.